Local Milkmen for Generations
We have been dairy farmers for generations and started delivering milk in the Parbold and Newburgh areas in the 1920s, when Grandad Hugh began a milk round, selling the farm milk from his horse and cart.  His daughter Sheila and her husband Vincent Rowland took over the farm in 1965, setting up our processing and bottling plant in 1985.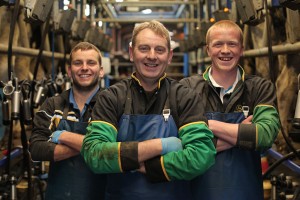 We are now fairly unique in that we are one of the few dairy farms that   have total control of the entire milk process – from milking the cows, processing and bottling the milk, then delivering it to you – truly 'from field to fridge' – and you can't get fresher than that!  It also means we can offer milk at the lowest prices (level with the supermarkets for pints),  offering value AND quality. (See what our customers say here!)
Through the years we have gone from strength to strength, with all the children – Chris (and his son Marcus), Neil and Steph – involved in delivering fresh tasty milk and other produce to doorsteps and businesses throughout West Lancashire, Chorley and surrounding towns and villages.  Our customers range from individuals who want just 2-3 pints a week, to shops, offices, canteens, schools and the catering industry. We also supply other milkmen across Lancashire.
Supporting Local
We are proud that we are a family business and committed to ensuring the doorstep delivery remains in West Lancashire.  Local is paramount to us. We have up to 16 full and part time dedicated local people on our team and source many of our grocery produce from local suppliers – see details of Our Suppliers here.
We are currently about to become a long-term sponsor of a local charity 'Legacy Rainbow House' which is based in Mawdesley and cares for disabled children.  We also support a number of local events over the year, such as donating milk and cream to Mawdesley Walking Day, local schools coffee mornings and fairs and finally the Steam & Vintage rally in Hesketh Bank.
Personal Service
Our milkmen are experienced, reliable and part of the family team. Not only do they know the products, the area and their customers, some have shown enormous dedication and tenacity, especially in getting deliveries out in bad weather. We appreciate that to some of our customers we are a lifeline. In fact by being around in the morning we have helped people out of a house fire, alerted police about burglaries or the theft of vehicles and alerted families when their elderly relatives haven't taken milk in or have been poorly when we have called. We have even got a customer suffering from Alzheimers home safely after wandering the streets.  This all is in a day's work for our milkmen and we are very proud of them. Please see some of our customer's testimonials here.
If you would like the convenience of a milk and produce delivery please register here or contact us. Our delivery areas are here.